Jurassic World: Dominion Dominates Fandom Wikis - The Loop
Play Sound
Barbara "Barbie" Millicent Roberts
Info
Species
Human-Sized Doll
Gender
Female
Occupation
Current owner of The Barbie Boutique, race car driver, presidential nominee, astronaut, doctor, pilot, flight attendant, and at least 135 others.
Color
Pink
Eyes
Blue
Hair
Blonde
Relatives
George Roberts (father)
Margaret Roberts (mother)
Skipper (younger sister)
Stacie (younger sister)
Chelsea (younger sister)
Home
Dreamhouse in Malibu
Voice Actor
Kate Higgins
B Friends Info
Likes
Hanging with her friends and sisters, cutting-edge fashion, acting/modeling, fan mail, dance parties, her pets, pink, telling jokes, Ken
Dislikes
Bad attitudes, upsetting a friend, bad hair days, fashion emergencies/disasters, losing her phone

Image Gallery
Barbie is the lead character and titular main protagonist of the web series Barbie: Life in the Dreamhouse. She lives in a large pink mansion called the "Dreamhouse" along with her sisters Skipper, Stacie, Chelsea, and their pets; Blissa, Taffy, and Tawny. Barbie is a fashion icon and has had over 135 careers, and counting. Despite being a celebrity in Malibu, she is friendly, humble and good-natured. Barbie is shown to like the color pink a lot and she is mostly shown wearing pink. Barbie is voiced by Kate Higgins.
Appearance
Barbie is a fair-skinned woman with blue eyes, long eyelashes, thin eyebrows, and long wavy blonde hair. Her makeup consists of dark eyeliner and light pink lipstick.
In Season 1, she wears a glittery pink tank top with light pink straps, a glittery light purple ruffled skirt with silver lining on each layer and pink high heel sandals. Her jewelry consists of two gold beaded necklaces, and gold bracelet, and pink dangling earrings. Her hair is in an updo and has parted bangs as well.
In Season 2, Barbie' wears a glittery gray shirt with white stitching on the neckline, a fuchsia three quarter length cardigan with fuchsia sheer ruffles on her collar, light pink jeans and pink high heel sandals. She wears white dangling earrings.
In season 4, Barbie wears a pink dress is a glittery top with pink bows on the straps and a pink and white striped skirt with a white, pink-outlined white band around the waist and pink heels. Barbie wears multiple beaded necklaces with silver, white, and pink beads. Her earrings remain the same, except they now have pink ends. Her hair is now changed, as she has fringed bangs and she ties it up in a high ponytail.
In Season 6, she wears a white shirt that fades to pink at the bottom with black stripes, brown pants with a black and red checkerboard pattern, a black leather jacket with white fur on the collar and a silver-white zipper, and pink necklaces. Her hair is loose, except for a partial braid.
In Season 7, Barbie wears a gray shirt with white polka dots and a blue jersey with white long sleeves, two white stripes on the collar, and a pink "B" on the left. She has a brown beaded necklace with a pink square in the middle. Her earrings are similar to the ones from Season 1, but are a darker pink. Her hair is styled in a high ponytail and has fringed bangs again.
Personality
Barbie is a very passionate, bubbly, kind-hearted lady and never has any bad intentions or will. She always helps others, even despite Raquelle's evil schemes towards her. She is shown to be a social butterfly and outgoing, easily making friends, as she is a loyal, friendly, generous, and tries her hardest not to upset them. Barbie is a fashion enthusiast, even owning her own giant boutique and is usually prepared in case of a fashion emergency/disaster.
Relationships
Barbie is the older sister of Skipper, Stacie, and Chelsea. In earlier seasons she appeared to annoy Skipper, however, the two became close after working together at The Barbie Boutique. She and Stacie don't always see eye to eye, especially when it comes to activities such as Jet Skiing. Barbie is closest to Chelsea, despite the derailment of her sixth birthday in Happy Birthday Chelsea.
Ken is Barbie's long-time boyfriend and is always there when she needs him.
Appearances
Website Gallery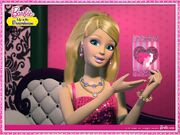 Family Tree
                          George Roberts──┬──Margaret Roberts
                                          │
            ┌─────────────────────┬───────┴───────┬───────────────┐
Barbara Millicent Roberts   Skipper Roberts  Stacie Roberts  Chelsea Roberts

Gallery
Trivia
It is revealed in A Smidge of Midge that Barbie grew up in Willows, Wisconsin.
Barbie loves to walk in the rain and sometimes does so with The Prince of England, as revealed in Cringing in the Rain.
Barbie's 32nd favorite career is flight attendant, as mentioned in Closet Clothes Out.
Her favorite movie is "Sad and Romantic the Sequel", as mentioned in Occupational Hazards.
Barbie's birthday is on the 9th of March.
Barbie is seen singing "Get Your Sparkle On" from "Barbie: A Fashion Fairytale" in Ken-tastic, Hair-tastic hinting she acted in the movie, or maybe it happened in reality (in the show).
Character Guide
Life in the Dreamhouse

—

characters
Main Characters

Barbie
Ken
Raquelle
Ryan
Nikki
Teresa
Midge
Summer
Grace
File:AvatarThumbEnrique.jpeg
Skipper
Stacie
Chelsea
Tawny
Taffy
Blissa
Enrique de Real Palacios III
Other Characters

Animals

Fish
Bear
Oyster
Dolphins
Hudson
Brunhilde

Robots

Tennis Robot
Shoe Robot
Closet