Barbara Millicent "Barbie" Roberts
Info
Species
Human-Sized Doll
Gender
Female
Occupation
Current owner of The Barbie Boutique, race car driver, presidential nominee, astronaut, doctor, pilot, flight attendant, and at least 135 others.
Color
Pink
Eyes
Blue
Hair
Blonde
Relatives
George Roberts (father)
Margaret Roberts (mother)
Skipper (younger sister)
Stacie (younger sister)
Chelsea (younger sister)
Home
Dreamhouse in Malibu
Voice Actor
Kate Higgins
B Friends Info
Likes
Hanging with her friends and sisters, cutting-edge fashion, acting/modeling, fan mail, dance parties, her pets, pink, tell jokes
Dislikes
Bad attitudes, upsetting a friend, bad hair days, fashion emergencies/disasters, losing her phone

Image Gallery
Barbie is the lead character of the show
Barbie: Life in the Dreamhouse
. She lives in a large pink mansion called the "
Dreamhouse
" along with her sisters
Skipper
,
Stacie
,
Chelsea
, and their pets;
Blissa
, 
Taffy
, and
Tawny
. Barbie is a fashion icon and has had over 135 careers, and counting. Despite being a celebrity in Malibu, she is friendly, humble and good-natured. Barbie is shown to like the color pink a lot and she is mostly shown wearing pink. Barbie is voiced by Kate Higgins.
Appearance
Personality
Relationships
Barbie is the older sister of Skipper, Stacie, and Chelsea. In earlier seasons she appeared to annoy Skipper, however, the two became close after working together at The Barbie Boutique. She and Stacie don't always see eye to eye, especially when it comes to activities such as Jet Skiing. Barbie is closest to Chelsea, despite the derailment of her sixth birthday in Happy Birthday Chelsea.
Ken is Barbie's long-time boyfriend and is always there when she needs him.
Appearances
Website Gallery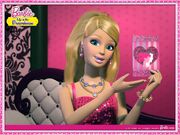 Family Tree
                          George Roberts──┬──Margaret Roberts
                                          │
            ┌─────────────────────┬───────┴───────┬───────────────┐
Barbara Millicent Roberts   Skipper Roberts  Stacie Roberts  Chelsea Roberts

Gallery
Trivia
It is revealed in A Smidge of Midge that Barbie grew up in Willows, Wisconsin.
Barbie loves to walk in the rain and sometimes does so with The Prince of England, as revealed in Cringing in the Rain.
Barbie's 32nd favorite career is flight attendant, as mentioned in Closet Clothes Out.
Her favorite movie is "Sad and Romantic the Sequel", as mentioned in Occupational Hazards.
Barbie's birthday is on 26th October.
Character Guide
Life in the Dreamhouse

—

characters
Main Characters

Barbie
Ken
Raquelle
Ryan
Nikki
Teresa
Midge
Summer
Grace
Skipper
Stacie
Chelsea
Tawny
Taffy
Blissa
Other Characters

Animals

Fish
Bear
Oyster
Dolphins
Hudson
Brunhilde

Robots

Tennis Robot
Shoe Robot
Closet
Community content is available under
CC-BY-SA
unless otherwise noted.