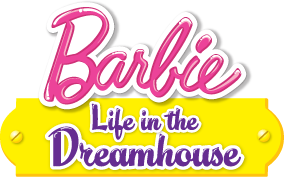 Barbie: Life in the Dreamhouse is an animated web series based on the popular Mattel franchise Barbie. It is produced by Rob Hudnut, David Wiebe and Michelle Coogan at Arc Productions and distributed by Mattel. The series premiered on the official website and YouTube on May 11, 2012 and is currently part way through its seventh season. When the show is airing, a new episode debuts each week and is translated into 21 different languages, and it is both mobile and tablet-optimized.
The series is set as a reality TV-esque show following Barbie and her friends Ken, Teresa, Nikki, Midge, Summer, Ryan and Raquelle, as well as her sisters Skipper, Stacie and Chelsea and their pets Tawny the horse, Taffy the dog and Blissa the cat in the day-to-day activities that take place in the Dreamhouse and surrounding areas.
Much of the humor in the show derives from parodying and lampooning both the traditional reality TV format and the Barbie franchise itself - the dolls, for example, are perfectly aware that they are dolls and use oversized items, warn of the dangers of cutting their hair because it never grows back and need to wear sunscreen so that they don't melt.
The series has gathered a following on various sites around the internet, most notably Tumblr, whose members are collectively referred to as Dreamhousers.
Characters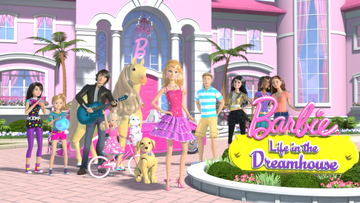 See also list of characters
Dolls
The series has a main cast of eleven Barbie dolls, two of which are male, in addition to three Barbie doll pets, and a number of supporting and background characters who are compromised of fish, car parts, celebrities/news reporters and a sentient closet.
Age and gender
The only doll whose age is definitively known is Chelsea, who turns six during Happy Birthday Chelsea. Skipper appears to be between 14 and 16 years old, while Stacie falls somewhere in between her two sisters. The topic of Barbie's age was brought up multiple times during Gifts, Goofs, Galore, with no doll being able to provide an answer until Barbie told them at the end of the episode. Unfortunately for us, this was blocked out for the viewers by Shoe-Vacuuming Robot. Barbie is more than 43 years old as mentioned in the first episode. Ryan and Raquelle are the same age, as they are twins, and Ken, Teresa, Nikki, Midge and Summer are assumed to be around the same age as each other. 
Main Characters
Barbie's friends
Barbie's sisters
Barbie's pets
Episodes
Main article: Episodes
Voice Cast