Jurassic World: Dominion Dominates Fandom Wikis - The Loop
Play Sound
This is a index of all of the locations featured in Barbie: Life in the Dreamhouse.
Malibu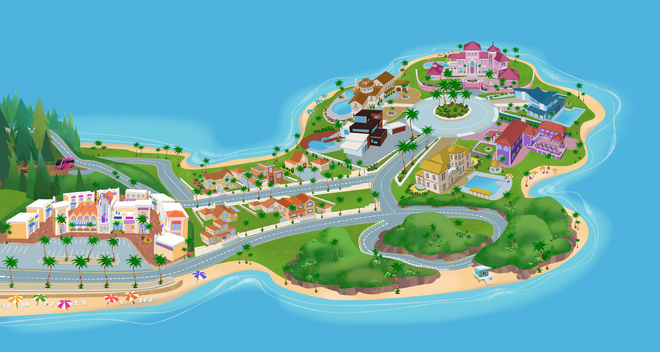 Note: The map above is inaccurate due to the lack of Summer and Midge's residences.
[1]
Malibu is the main location featured in Barbie: Life in the Dreamhouse. Most episodes take place in and around Malibu. :D
Main Article
Description
Image
The Barbie Dreamhouse
The name says it all. This lavish home of Barbie and her sisters has everything that a girl could need. Like magic, even Barbie is discovering new rooms she never knew were there before.

The Raquelle Mansion
It's all about taste. Some call this Malibu mansion gorgeous and others call it tacky. But everybody says the Dreamhouse overshadows it. So now Raquelle constantly updates the mansion with new cutting-edge style to keep up with Barbie and her fab pad.

The Ryan Mansion
For Ryan this is rebel headquarters. There is no place in Malibu where you can find more mirrors and pictures of Ryan.

The House of Ken
This cool beach pad is the home of Ken. The surf décor fits this true-blue guy and gives him a place to chill, think about Barbie and think about the things he can do and the crazy gadgets he can make for Barbie.

The House of Nikki
The sassy and fun vibe of Nikki rocks this house. This is a place that is in the now!

Casa de Teresa
This Spanish-inspired home matches the laid-back personality of Teresa to a T. Visitors become more Zen just walking in the door.

The Beach
Malibu is world-renowned for its beaches. Whether catching sweet waves or just taking in the rays, Barbie and her friends make the sun and sand their home away from the Dreamhouse.

Campgrounds
When the mood to rough it arises, Barbie and her friends jet into the hills in her glammed-out camper for some nature time. Hiking, swimming and campfire cozy ups are all on the list of fun activities in these woods.

The Mall
This is the ultra shopping, dining and entertainment destination for Barbie and her friends. Whether they're checking out hot boutiques or dining at trendy restaurants or watching the trained dancing dolphins show, this is where they live the fab life.
Other Locations
Some of the other locations featured, sometimes briefly, in Barbie: Life in the Dreamhouse.
Trivia
Every single extra in Malibu has Raquelle-styled hair.
Interactive Map
References
Location Guide
Life in the Dreamhouse

—

locations
Malibu

The Ryan Mansion
The House of Ken
The House of Nikki
Casa de Teresa
The Beach
Campgrounds
The Barbie Dreamhouse

Main
Dreamhouse Foyer
Dreamhouse Living Room
Dreamhouse Kitchen
Dreamhouse Garage
The Barbie Bathroom
The Barbie Bedroom
The Barbie Closet
Bedroom for Chelsea
The Mall

Main
The Barbie Boutique
The Raquelle Boutique
The Restaurant
Chelsea's Lemonadory
Other

Space
Tiki Resort
TV Studio
Paris
The Alps
New York
Beijing
London
The Arctic
India