Obi-Wan Finale - The Loop
Play Sound
The Ryan Mansion

Info
Official Description
For Ryan this is rebel headquarters. There is no place in Malibu where you can find more mirrors and pictures of Ryan.
Type
House
Known Rooms
Confessional Couch, Hot Tub (outside)
Inhabitants
Ryan, Taffy's Puppies
Next to
Casa de Teresa, The House of Nikki, othe homes

Image Gallery
The Ryan Mansion is the name of the mansion that Ryan and Taffy's puppies live in. It is located between Casa de Teresa and The House of Nikki. It is a googie style house, featuring a box design in hues of brown and white.
There are at least 3 stories in the mansion, and has a guitar-shaped pool in his backyard, located in an elliptical shaped area, which also has a diving board and a palm tree in it.
Rooms
Hot Tub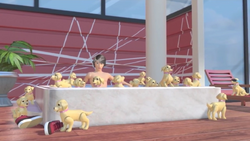 Ryan's hot tub is outside and is seen in Plethora Of Puppies and Accidentally on Porpoise. It is a white plastic hot tub on the ground. It has a red wall behind it, a potted plant on the left side, and a red deck chair on the right. It is near his pool and is next to his house.
Confessional Couch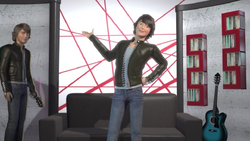 Ryan's confessional couch is a modern black leather two-person sofa, identical to the ones Ken and Nikki have. In the background is a white background with red intersecting stripes. To the right are two zig-zaggy shelves with CDs (probably his own albums) on them. To the right is also one of his blue guitars leaning against the wall. To the left is one of his cardboard cutouts.
Location Guide
Life in the Dreamhouse

—

locations
Malibu

The Ryan Mansion
The House of Ken
The House of Nikki
Casa de Teresa
The Beach
Campgrounds
The Barbie Dreamhouse

Main
Dreamhouse Foyer
Dreamhouse Living Room
Dreamhouse Kitchen
Dreamhouse Garage
The Barbie Bathroom
The Barbie Bedroom
The Barbie Closet
Bedroom for Chelsea
The Mall

Main
The Barbie Boutique
The Raquelle Boutique
The Restaurant
Chelsea's Lemonadory
Other

Space
Tiki Resort
TV Studio
Paris
The Alps
New York
Beijing
London
The Arctic
India